Houseplants assortment Andover Garden Centre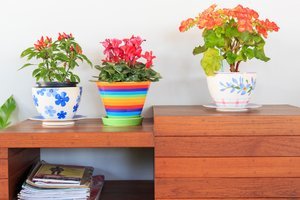 Buy the best houseplants at Andover Garden Centre in Andover. Houseplants bring the garden indoors, filling your house with colour, greenery and scent even through the coldest months of the year. You can grow all sorts of exotic beauties in the protection of your own home, too, from lush palms to tropical orchids, glamorous amaryllis and vibrantly colourful flowering cacti.
There's a constantly changing display of houseplants on sale in your Hampshire garden centre so drop by regularly to see what's in stock: select in-flower beauties for each season of the year and you can have a year-round indoor garden without having to step outside your front door.
Winter colour with houseplants from Andover Garden Centre
Start with lush evergreen houseplants like weeping figs, spider plants and kentia palms for a year-round backdrop of greenery which refreshes and cleans the air.Then add your seasonal highlights. Winter is a time when you'll want as much colour and scent as you can muster to cheer yourself up on gloomy days, so stock up on forced paperwhite daffodils and hyacinths, climbing stephanotis and jasmine polyanthum, velvety African violets and cyclamen from the Andover Garden Centre shelves.
Summer houseplant highlights
In summer you're spoilt for choice: Orchids come into their own: a single, impossibly beautiful flower spike on a moth orchid (Phalaenopsis) can last months. Once you've mastered the more straightforward orchid types, have a go with slightly more demanding varietiies like Oncidium or delicate slipper orchids (Paphiopedilum).
Streptocarpus are long-flowering and beautiful, with primrose-like flowers in a spectacular array of colours: add a row of identical potted geraniums in vivid scarlet, the white spathes of a peace lily and perhaps an exotically-leaved begonia and you have a riot of colour that keeps going all summer long.
Looking after your Andover Garden Centre houseplants
There are too many intriguing houseplants to list here: once you've got the houseplant bug, branch out and you can include bonsai, carnivorous plants and intriguing curiosities like Aloe vera, whose leaves are full of a sap which soothes burns: it's the perfect first aid kit for a kitchen windowsill.
Set your houseplants off with a beautiful container chosen from the selection at the garden centre here in Andover and move into larger containers once every few years. Place somewhere bright, but out of direct sunlight, away from direct heat sources such as radiators. Winter houseplants appreciate a summer holiday outside: bring indoors again in autumn and they'll repeat their spectacular displays with added enthusiasm year after year.