Newsletter
Sign up for our newsletter:
Barbecues assortment B&Q Belfast - Holywood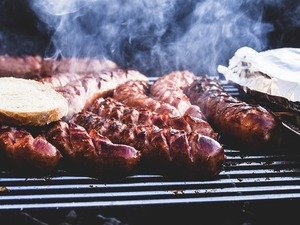 Buy your new barbecue at B&Q Belfast - Holywood in Belfast. No garden would be complete without barbecues. Perfect for those summer days and why not use it in the winter to create great tasting food?! B&Q Belfast - Holywood stock a range of barbecues for you to go and have a look at. From charcoal to gas you will find barbecues right for you.
The summer has began!
Barbecues are a sure sign that summer has arrived. Their arrival on your patio is your cue to abandon the dining room and eat al fresco, making the most of the long, lazy summer evenings with friends and good food.
When it comes to choosing barbecues, the range at B&Q Belfast - Holywood can be bewildering – so never be afraid to ask for help you compare the various models available. Choose from portable single-use barbecues to take to the beach barbecues, to kettle barbecues you can set up in moments on the patio. And if you have a party in mind, why not splash out on our deluxe gas-powered outdoor cooking centre, complete with hotplates and storage cupboard, for the serious barbecue pro. There's really no comparison!
All barbecue products you need at B&Q Belfast - Holywood
You'll also find all the barbecue accessories at B&Q Belfast - Holywood in Belfast you need. Just add a table, chairs, friends and family for party evenings you'll remember for years.
Visit the B&Q Belfast - Holywood which is located in Belfast, Down to see the range they stock and speak to their knowledgeable staff about their barbecues.
B&Q Belfast - Holywood

Harbour Exchange
Airport Road West
Holywood
BT3 9DY Belfast