The best miniature fruits and vegetables to grow in your garden
Tiny objects are everywhere, as you see tiny toys, houses, and gardens, but have you also seen some tiny vegetables and fruits? If not, you need to search them and look at these plants as they have a very Instagrammable appearance which you will absolutely adore. There is something fascinating about looking at small objects, and no matter what you see in a small dimension, you will feel happier, especially if these are represented by cute and tiny fruits and vegetables that you don't have the opportunity to see every day. Growing something in your garden will always be a satisfying process, as you can watch how your plants transform, and you will also be able to taste them once your plants are harvested. But we think it is funnier to grow plants in miniature and try something new from the usual alternatives you find on the market. And if you thought that they don't have the same nutritional benefits because of their small look, you are mistaken, as even if they are so little, they still give plenty of vitamins and minerals.
Here are the best miniature fruits and vegetables you can grow in your garden.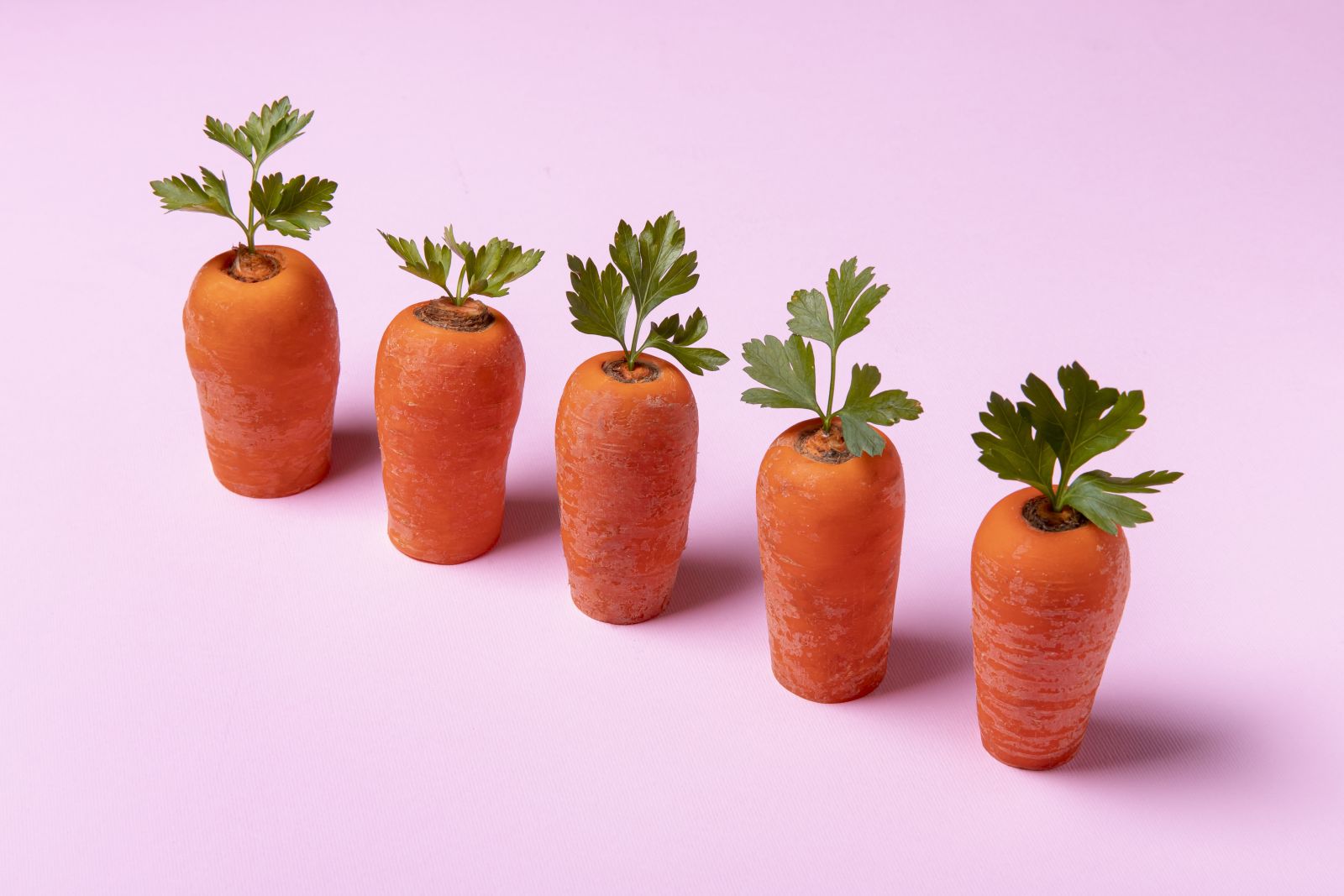 Kiwi Berries
Kiwi berries or baby kiwis look exactly like kiwis but without the coarse and brown skin. The good news is that because of their small dimensions, they can be considered a snack, and you can eat them exactly like you would with grapes. They contain plenty of vitamin C and are best eaten when they become soft to the touch. So, if you want to grow kiwis, why not pick this new and cute alternative? Unlike their bigger brother, they can be eaten without peeling the skin and will add an amazing nutritional addition to your diet. Plus, with their look, you will amaze every friend visiting your house who comes to see the cute fruits. Because they are so small, they are perfect for growing in planters and window boxes and placed on your balcony or in your garden.
Thumbelina Carrots
Thumbelina carrots don't have the usual look of a carrot and its classic shape, but a rounder and smaller size that looks like a golf ball. The skin of these carrots is very soft, which is why there is no need to peel them before eating. And the ones that have tried this type say they are delicious and have a sweet flavour. As these types of carrots are very tasty, they can be eaten raw or cooked and work great in soups and stews. They are easy to grow and have few requirements, making them the perfect alternatives for your garden. If you have kids and want to introduce them to the garden world, you can make them grow these types, as they will have a lot of fun harvesting some little carrots. You can also plant these vegetables in outdoor planters because they are so small and will not need much soil to grow in.
Fairytale Eggplants
The fairytale eggplants are adorable and have a good flavour and the same nutritional benefits as a full-sized eggplant. They have purple and white patterned skin and are ready to be harvested when they are four to five inches long. And we think the name is a reason enough to have this plant in your garden because you surely want to tell your friends that you have a fairytale vegetable in your yard. And gardeners say this alternative has fewer seeds than the usual type, a creamy flavour, and no bitterness. If you want to have this plant in your garden, keep in mind that it requires warm soil and temperature to grow healthy and strong.
Cucamelons
Cucamelons are a type of fruit you probably have never heard of before, as they are not so commonly known and don't have a full-size correspondence. Although they look like mini watermelons, the taste is quite sour, like a mix between a cucumber and a lime. They have earned the title of a superfood, as they are full of antioxidants and vitamins, even if it is hard to believe this from such a small fruit. Cucamelons also bring several benefits to your health, as they reduce the risk of heart diseases, cancer or strokes. They have the size of a grape and are also known as Mexican Sour Gherkin or mouse melon, and they are perfect for growing in any garden for their Instagrammable look.
Miniature Bell Peppers
You probably saw the miniature bell peppers when you walked through the supermarket aisles, but having them in your garden and eating from your own production is funnier. You can harvest them in various colours, from auburn orange and ruby red to deep purple and lime green. Because of their small size, they are absolutely delicious and can represent tasty and healthy snacks or appetisers for dinner. So, wouldn't you want to have them in your garden?
Kalettes
Kalettes, or kale sprouts as they are also known, are a hybrid of Brussels sprouts and kale. Because of their foliage and small florets, they can be easily cooked or even eaten raw. They usually need about 120 days to grow, so if you have enough patience, this vegetable might be the best alternative for your garden. If you wonder about their taste, you need to know that kalettes have a tender taste than kale and the sweetness of Brussels sprouts. Plus, they add plenty of nutritional value to any dish and can even be integrated into smoothies.
Growing miniature fruits and vegetables will bring a lot of happiness into your life, and if you have never planted these types, you will be even more pleasantly surprised as you will not know what to expect. So, which of these miniatures do you want to grow in your garden?