Farm shop assortment Garsons Garden Centre Titchfield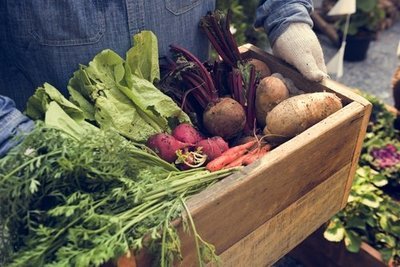 Buy fresh vegetables at the farm shop at Garsons Garden Centre Titchfield in Fareham! Farm shops let you really indulge your passion for food. At your Hampshire? farm shop and garden centre you'll find all sorts of delicious goodies, all locally sourced and produced by people who really care about the quality of their food.
The emphasis at Garsons Garden Centre Titchfield is on good quality, fresh, local produce, with low food miles and organic wherever possible. You'll also find a friendly smile and personal service from the staff in our farm shop, from the butcher's to the delicatessen: such a nice change from the big impersonal stores.
Seasonal food from Garsons Garden Centre Titchfield
The fresh food you'll find at your Fareham farm shop and garden centre is as good as it gets: locally produced and always in season. You'll find boards in store telling you what's good right now: we love to indulge in seasonal treats like fresh strawberries, richly-flavoured asparagus, new potatoes and peas in the pod.
You can buy potatoes by the sackful, as well as bunched carrots and fresh free-range eggs. And do visit the butchery where you'll find every cut of meat from luxury steak to home-made sausages and oak-smoked bacon.
Delicious treats from the Garsons Garden Centre Titchfield farm shop
Want someone else to take care of the cooking for you? After a busy day's shopping at the garden centre just pick up a freshly-baked quiche or pie from the farm shop delicatessen. You can also select some delicious side dishes from olives and antipasti to freshly-made coleslaw and salads. And don't forget to add some of the gourmet cheese plus luxury crackers to finish your meal in style.
Luxury treats from the farm shop make great presents for friends and family: why not combine several of their favourites in a hamper?
Farm shop food is real food
The farm shop in Fareham is also your one-stop shop for day-to-day shopping. Pop in for a pint of locally-sourced milk or a loaf of bread straight from the bakery oven. Stock up on dairy products, from yoghurt to cream, and kitchen cupboard staples like jam, butter, pickles, tea and coffee (you can always slip in a few treats, too – let yourself be tempted by our old-fashioned sweets, chocolates, gourmet crisps and spicy snacks!). You'll know everything in your basket is local and freshly made with care: and food doesn't get much better than that.