Why Garden Rooms are Ideal for a Summer Garden Party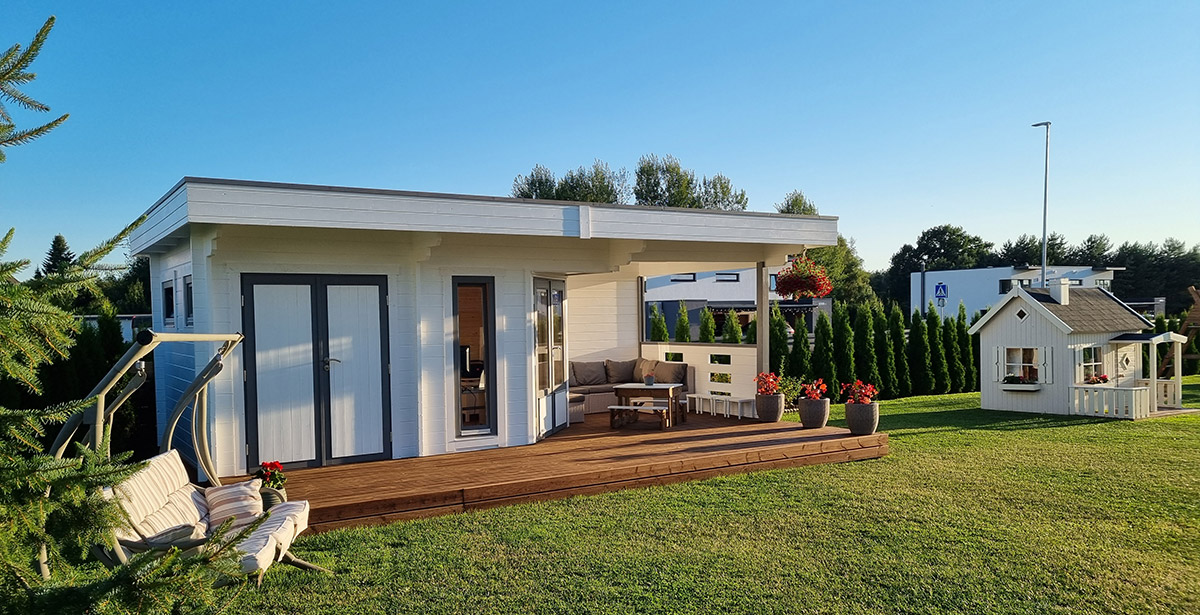 Is there any better feeling than a successful summer garden party? All your friends in one place, laughing and socialising in the summer sun. What's not to love?
However, planning the perfect summer garden party is not easy and requires a lot of thought and effort. One way to make the process of planning a summer garden party easier than ever is to take advantage of the benefits a garden room can offer. Garden rooms are a fantastic investment for several reasons, but they can also be a fantastic addition to any summer garden party.
The Benefits of Garden Rooms for Summer Garden Parties
They provide shelter for when the English weather inevitably turns.
First and foremost, a garden room is ideal for when the weather changes, which unfortunately seems to be the case more often than not in the UK! With a garden room, you have a perfect spot to move the party inside while still enjoying the great outdoors. Rather than people leaving when a summer shower hits, you can wait it out in your stylish, comfortable, and durable wooden summer house.
They create an intimate and cosy atmosphere.
Aside from providing shelter, garden rooms can also be incredibly intimate and cosy, which is ideal for when summer garden parties begin to roll into the night. Rather than your guests starting to get cold and heading home, you can all retreat to the cosy summer house, snuggle in under some blankets, and continue the great evening.
Versatility is key for any garden party.
Finally, even with the best possible planning, you never quite know what's going to happen at a garden summer party! Anyone who has hosted a few garden parties will know that every so often, a spanner is thrown into the works, and you have to think on your feet for the perfect response. Fortunately, having a garden room at your disposal gives you plenty more options, allowing you to be well-equipped for any potential scenario.
Tips for Hosting a Memorable Garden Party
Now that you know just how important a garden room can be for a successful garden party, let's look at a few of the other major influencers on whether your gathering will be a resounding success.
Food and drink
Firstly, food and drink are critical to ensuring your guests are well-fed and have plenty of choices. Consider who is coming to your party. Will there be people there who won't want alcohol? Will there be people there who do? Will anyone want a hot beverage? Any dietary requirements? What about children? These are all things you must consider when planning your food and drink menu. Alternatively, if you plan not to include food and drink at your summer party, that's absolutely no issue, but you should inform your guests beforehand to ensure there are no nasty surprises!
Entertainment and activities
Aside from food and drink, it is also important to plan the entertainment and activities for the party. While these are likely not going to stick to a specific time frame, it's a good idea to have a general plan of when to introduce each activity to ensure the party runs smoothly and your guests are constantly entertained or active.
Garden Rooms and Summer Garden Parties: The Verdict
A successful summer garden party is a joyous occasion filled with laughter, socialising, and the beauty of nature. While planning such an event can be challenging, the inclusion of a garden room offers a multitude of benefits that can enhance the overall experience.
From providing shelter during unpredictable weather to creating an intimate and cosy atmosphere, garden rooms prove to be ideal spaces for hosting memorable summer gatherings. Their versatility allows for seamless adjustments to accommodate various activities, ensuring that every moment is enjoyed to the fullest.